Interested in wholesale nail polish?
Sienna is represented widely across the globe. If you would like to retail Sienna nail polish, please complete the form below.
Existing wholesale users can login here.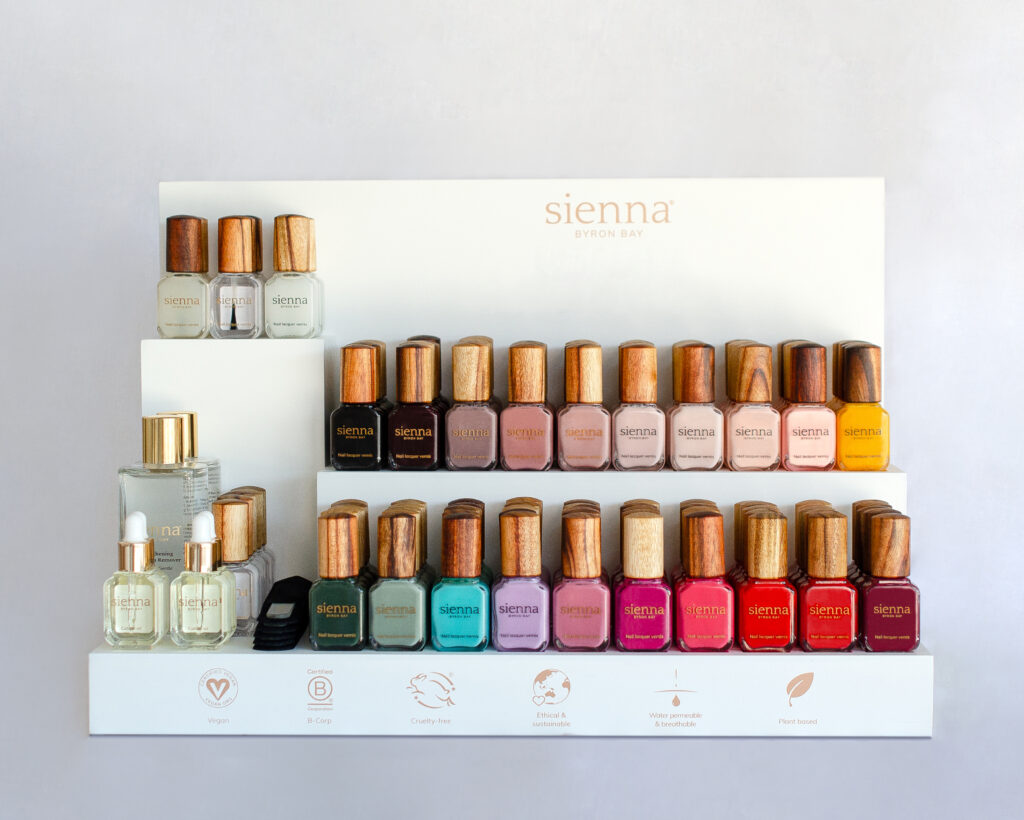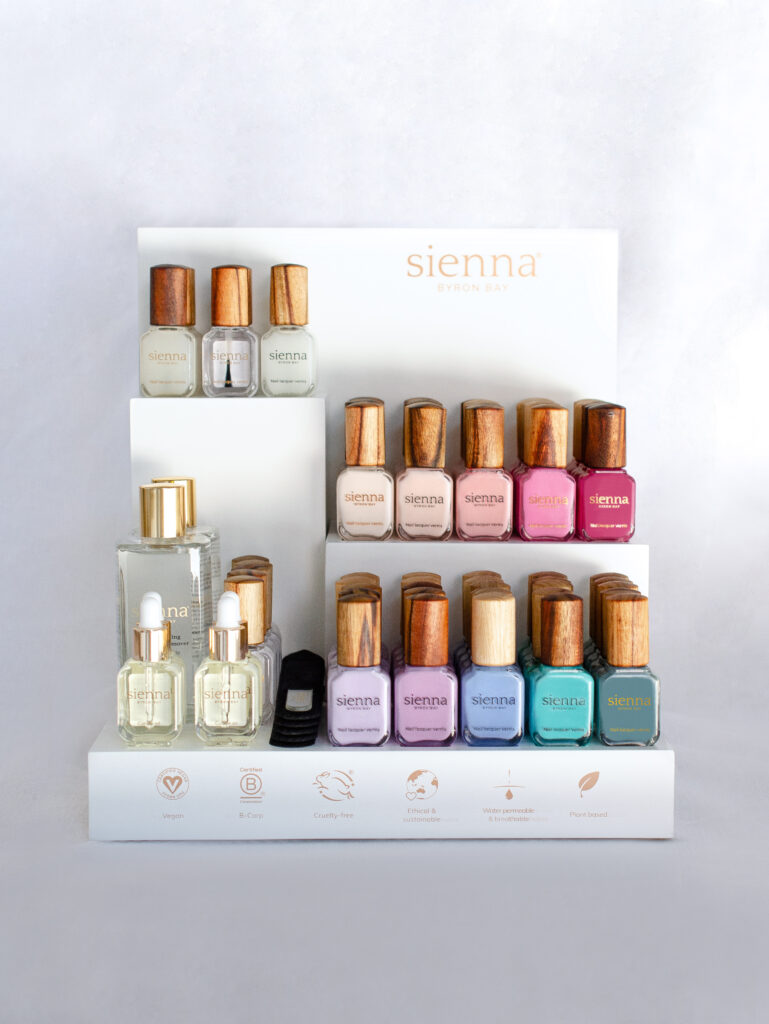 Are you searching for ethical, luxury wholesale nail polish in Australia? Whether you're a small boutique owner looking to extend your natural beauty offerings; a buyer for an up-and-coming health food store; or have a small family-run gift shop or pharmacy, we can help!
We originated in Byron Bay, Australia and make clean, luxe vegan nail polish, remover and nail accessories. Our products are both cruelty-free and B-Corp certified and we are currently represented by over 500 stores across Australia and in 20+ countries internationally through our nail polish wholesale program. In creating our organic colour nail polish we take inspiration from the natural world but also ensure we're crafting a product that doesn't compromise our earth. Our packaging is 100% recyclable and we run an in-house recycling program for our customers to help close the loop on our output.
We carefully select wholesalers to ensure suitability and believe all businesses, big or small, should be a force for good. If interested in learning more about becoming a Sienna nail polish wholesaler in Australia, read through the following to discover if our ethics and ethos align.
Why stock natural, vegan and halal-friendly nail polish
Whether you're looking for halal or vegan nail polish for sale at a wholesale price, Sienna's
entire range will work for you and your customer. Inspired by the natural world, our collection of organic colour nail polish shades and nail care products are breathable, non-toxic and glitter-free.
Our sustainable and ethical approach ensures our entire range, including our wholesale nail polish, is inclusive and natural. We lead the way in nail polish quality, production and formula and strive to meet these standards for both our planet and our people. We don't compromise and believe non-toxic, vegan nail polish offers our customers a better experience. From base coat to cuticle oil, natural nail polish remover to our extensive shade range, the benefits of stocking natural, luxury nail polish go beyond the perfect manicure.
Our nail polish lasts as long as conventional formulas which ensures it's a worthwhile investment for those searching for natural, durable wholesale nail polish. We're also proud to be Made Safe Non Toxic certified.
We make a point of producing wearable, inclusive and universally-flattering organic colour nail polish shades suitable for daily or occasional wear. Our classic, on-trend hues cover the entire colour spectrum and range from poppy pinks to soft pastels, reliable neutrals and subdued blues or bold sunset tones.
Think you're a good fit for Sienna nail polish wholesale? Get in touch!
If you have any questions about our vegan nail polish don't hesitate to contact us. If you would like to apply for nail polish wholesale in Australia or internationally, please complete the form below and we will be in touch once we have reviewed your application.